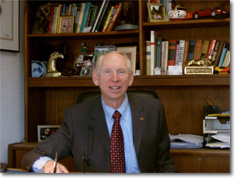 James Wirth has been Chairman, President and CEO of RARE EARTH DEVELOPMENT
COMPANY SINCE 1972 and InnSuites Hospitality Trust (AMEX: IHT) since 1998 and
President and Founder of hotel affiliated entities since their founding in 1980.
InnSuites Hospitality Trust founded in 1971, invests in hotels, manages hotels, provides
trademark hotel services and has paid a dividend for 36 consecutive fiscal years.
InnSuites Hotels and Suites offers "Your Suite Choice" of Studio InnSuites, Two-Room
Executive/Family Suites, and Romantic Presidential Jacuzzi Suites all with either
kitchenettes (microwave, refrigerator, plus coffeemaker) or full kitchen "by the day or
extended stay".
Prior to the founding of Rare Earth and InnSuites, Mr. Wirth served as Assistant to the
President and Division President of Ramada Inns, Inc. in Ramada's high growth years
(1970 through 1973). He earned an MBA in Industrial Administration from Carnegie-Mellon
University, where he was a Mellon Fellow, and a Bachelor of Arts degree, with Distinction,
in Economics and Mathematics from the University of Arizona.